i decided, since things are starting fresh in my life, that i would start a fresh new blog. Since i had no privacy from prying eyes on my old blog, and since all the blogs there mean nothing now, im staring fresh with this blog.
So let me catch you up on things. Sunday Landon and I went with Denise and Ed(my aunt and uncle) to the pumpkin patch. We went to the one in Fort Vannoy, outside of grants pass. It was awesome. Landon was so excited all week to be going. When we got there we had hot apple cider, Landon got his face painted, and then we rode the tractor ride down to the corn maze. The corn maze was like 4 acres, it was HUGE! it was so much fun though. After that we went to the pumpkin patch and picked our pumpkins right off the vine. of course Landon choose a nice big pumpkin. LOL. after that denise and landon shot a pumpkin out of the pumpkin cannon, which was the coolest thing ever! the pumpkin shot like 400 yards, it went so far! After the pumpkin patch we went to McDonalds for lunch, which thrilled landon to no end. It really was a great day, just what landon and I needed after the week we had. It did suck a little that once we got there i discovered my camera's batteries were dead, but Ed got some good pics on his cell phone.
getting his face painted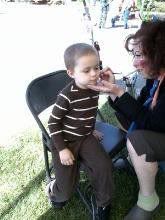 His spiderman face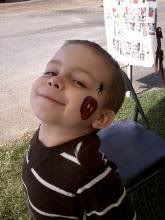 Denise, Landon and I in the pumpkin patch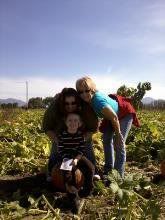 In a week is Halloween, and Landon still is undecided on what he wants to be. He has several dress up costumes that we got him last year for christmas, so his options are G.I Joe, pirate, spiderman, capatain america, or a transformer. I think he'll end up being a pirate, like he was 2 years ago, but he'll still be cute! He's already excited for trick or treating, and i think it'll be fun to take him this year since he's old enough to really appreciate it.