Monday Landon and i made our annual goodie platters. This year i kept them pretty simple. We made pumpkin bread, sugar cookies, gingerbread cookies, peppermint mocha cookies, rice crispy treats, cupcakes, and puppy chow chex mix. Landon had so much fun being able to do most of the mixing and decorating! he's such a big helper in the kitchen, and he just loves to "cook" with me!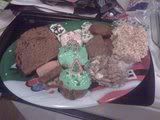 Yesterday was my 25th birthday. I have very mixed feelings about it...about getting older. I dont want to get older! I dont want to be 30, or 40, or 50...but i have no choice, so i need to accept that.
Anyway, i had a GREAT birthday. Monday night Landon used some of his own Christmas money to buy me birthday dinner. It was without a doubt the best chicken nugget happy meal i have ever had!!! and it was just so sweet and so wonderful. I love that kid so much!!!
Tuesday i got woken up to Landon singing happy birthday to me. then i was given lots of wonderful birthday kisses. For my birthday Landon got me a very pretty necklace and earrings, and a really big hersheys kiss. My friend Ashley got me some very pretty earring, and i got myself a very pretty ring. i also got a gift card, a check, and some money for my birthday, plus some VERY pretty cards.(thank you all)I also was wished happy birthday a ton of times, and it felt very nice to be remembered. My friend Melissa took me out to lunch at Taprock, this really nice little restaurant on the river. It is an amazing place, so pretty, with great food. Ashley & Kelly took me out for dinner, and then they spent the night here last night. we rented movies, got a bottle of wine and stayed up WAY to late talking and just having a good time. It was really nice. I spent the day with people i love, who love me, and my day was full of happiness.

I was bummed that Jake forgot my birthday. It was hard for me, and kinda hurt. But that's just how things are for us now, and i suppose i need to try and keep that in mind a little better. Sometimes i wish that i didnt miss him, but i am only human.
Today i got my blood drawn again. My INR is at 3.0, which is FINALLY in the range the doctor wants it to be in. so no more tweaks in my dosage for a while i hope! After that we took Landon and Conner to a christmas party at trudy's work where the kids got presents given to them by santa claus. Landon was tickled pink!!! he got a red lego race car, a gift he had really wanted. Madi got him the big toy he wanted, Stinky the talking dump truck. I had wanted to get it for him but it's almost $60, but madi got to use her sister-in-laws discount at fred meyer, so she got it for him. He's going to be so spoiled this christmas! and now im off to bed, ive been fighting off a headache all day.