i know i haven't blogged in quite some time. Things have been, overwhelimg to say the least...but im back in a place where i can blog and not have it be just me complaining, or whining...so im back!!!
Last weekend Madi and I took Landon, and her son Elijah, to see Santa. They loved it. Elijah didnt even cry like some babies do. Landon asked Santa for a red race car and some hotwheels track.(like we need more of that! LOL)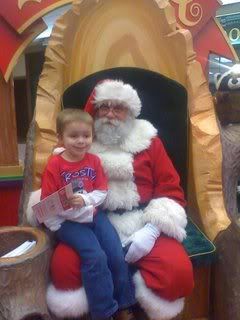 Yesterday i helped madi and max move into their new house. Madi is just glowing with pride at being a home owner. Her house fits her too, it's very cute, with a nice fenced in yard. It's near a park, and on a quiet cul-d-sac with not much traffic, and so far all her neighbors that she's met are very nice. After moving all day we were exhausted last night, but we decided we need to celebrate, so some friends came over, we hung out, had some drinks and played wii all night. It was fun, but that wii bowling really makes your arm stiff if you play too long!
This morning was church and practice for landon, for the christmas musical next weekend. He knows his song by heart but we still are working on the motions. After church we went to the reindeer games with Denise and Ed. They had reall reindeer, and hot cocoa, and games, and santa. Landon loved it! it was cool because instead of money you got tickets to do everything, and to get the tickets you just had to bring donations for the food bank. After that we went to lunch with Denise and Ed, just talking and enjoying each others company. It was really nice.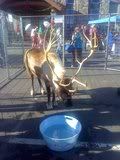 (frosty the reindeer)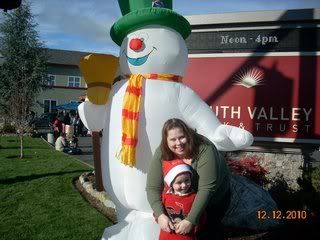 Madi and i did some running errands, and i almost finished my christmas shopping. I have one more gift to get, and then some stocking stuffers for Landon. Landons going to be so happy. there is this batman batcave set he wants, with about 15 different smaller sets that go with it, and Trudy, jake and i all got him part of the set, so put together he'll have everything. I can't wait till he sees it all. So far the holidays have been kinda hard on him, with jake and i not being together anymore and all that, but he's doing okay. He acts out sometimes, and has been having more accidents and temper tantrums, but his therapist assures me it's all normal. It's hard to watch him go through it, to see him hurt by the mistakes that others have made...but i know god has a plan for us, for this, so we continue to take it one day at a time.
And now that im back blogging again i promise not to go 2 months till the next one. Night all.