Sunday the 26th was our snow day. We woke up to a beautiful, sunny morning in the valley. We got all our snow gear together, packed some snacks, and picked up ash, Kelly & Conner. We headed out past rogue river, past wimer, up a gorgeous mountain to a spot Ashley knew about. Pickels made it up no problem, she's such a trooper! When we got up there a bunch of ash's family and friends were up there. They had set up a camp stove with coffee & cocoa, and had a bonfire to keep warm. The kids were all sledding, which was what Landon spent most of the morning wanting to do. Ash & Kelly both took him a couple times, me in my sneakers with no traction stayed by the fire! When we got up there it started snowing, big fat furry flakes...it was so pretty!!! Landon and i headed back home after he got all soaked and the bonfire wouldn't dry his jeans out. next time, snow pants for the boy!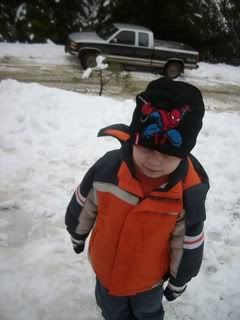 my snow baby
ashley & landon sledding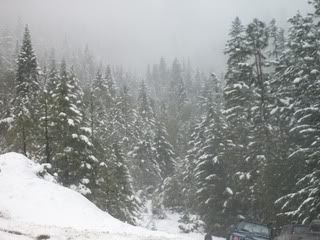 (the view up the mountain...so pretty!)
when we got home we had lunch, and cuddled up on the couch with the big blankets and had a nap. When i woke up my throat was very sore, and my head felt fuzzy and my ears were hurting. as the day went on i got worse and worse, and was pretty sure i had strep again. Monday morning i saw the doctor and she confirmed strep, so Jake came and took Landon. she told me i had the worse case of strep she had ever seen, and prescribed me some liquid antibiotics. by Tuesday my throat was much worse, and i wasn't able to get anything, medicine or liquid or anything down. i took a nap Tuesday afternoon, and woke up having a hard time breathing. my friend called an ambulance for me and they rushed me to the ER. they gave me oxygen and an iv in the ambulance. when i got the the ER and saw the doctor he was impressed i could even breath with how swollen my throat was. they kept me on oxygen all Tuesday night, and started giving my steroids, anti-inflammatory's, and anti-biotics by Iv. Wednesday morning i could at least talk a little, and after 4 rounds of steroids and IV meds my throat finally started to open again. i was able to get down some soup Wednesday at lunch, and ate some soft noodley thing Wednesday night. My voice is no back to normal, my throat is only a little sore and my fever has broken. im really glad i decided to go to the ER, i think it was the right thing to do. Thank you all for your concern and prayers, i appreciate it.
Yes, i have been sick alot this fall/winter. my doctor and i talked about it and he thinks because of the blood clots my immune system is weaker than normal. I have to agree. i usually get one bad cold a winter and that's it, but not this year. i had my flu vaccine in October, but at the hospital this stay they gave my the pneumonia vaccine, which they usually reserve for the elderly, but the doctor felt it was a good idea for me. Better safe than sorry. and now it's time for this tired momma to finish her chamomile tea and head to bed. Night all!!!