Easter...the celebration of Jesus death on the cross and triumph over death 3 days later. a time for rejoicing and happiness. I did my best today, but on my best face, and made it a good day for all, but today was a dark day and all i wanted was to curl up in a ball and ignore the world. stupid bi-polar depression, sometimes i feel so helpless and worthless. I thank god for Landon, or who would i be right now?
Anyway. Easter weekend. This week Landon and i made easter cupcakes and decorated eggs. On Saturday we had Zoey with us from 6am till 3pm while kenzie was at work. she is such a joy that girl. im so glad she and Landon love each other so much. Saturday morning we had cinnamon rolls and went to a kids day thing at Fred Meyers with my friend Lisa, and her kids Zach and Kyla. They had a cake walk for the kids, and they got to make egg magnets. Then we all went to McDonalds for lunch. After that i took Zoey and Landon to an egg hunt at Trudy's work. I dont ever take Landon to the one at the park anymore, it's just to crazy. Zoey and Landon had lots of fun, getting eggs and candy, and then eating cupcakes. Saturday night Landon and i rented a movie and had "mommy landon" time. Sunday morning was church, and awesome service, with 14 baptisms. After church we had lunch with Denise and Ed, and watched the movie "Despicable Me" Denise had to work and left before the movie was over, but it was still fun. Im so blessed to have them in my life and i know it. After we got back to RR we went to the park, since it was sunny and nice in RR( it had been raining in GP when we left) Jake came and met us at the park to bring Landon his basket, and to get to see him for a few minutes.
So that was our weekend, now you know all about it. I hope everyone else had a good easter. I have a big morning tomorrow so im off to bed. Goodnight and god bless.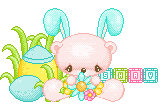 Matthew 28:6&7 He is not here: for he is risen, as he said. Come, see the place where the Lord lay. And go quickly, and tell his disciples that he is risen from the dead; and, behold, he goeth before you into Galilee; there shall ye see him: lo, I have told you.